AES/Intellinet in Davie, Miami Beach, Sunny Isles Beach, Fort Lauderdale, Hollywood, FL, & throughout Broward & Miami-Dade Counties
Fire Alarm Systems and Security is an authorized dealer and installer of AES-IntelliNet wireless mesh networks.
Why Choose AES-IntelliNet Systems?
Break free from soaring phone bills by going wireless
Exceptionally reliable with the quickest response time of just 1-3 seconds
Applicable in both fire and intrusion applications
Used in hundreds of thousands of locations throughout the world
Originally developed for military use and applications
Enhanced protection to serve the security needs of clients dispersed over large geographic areas or regions without phone or cellular service
Companies choose AES-IntelliNet to provide reliable, fast signal transmission over any other wired or wireless technology. Monitoring transceivers make up the network without the use of radio towers. These transceivers make the system self-managing, user-friendly and highly dependable. And without monthly fees paid to maintain the network, AES-IntelliNet offers some of the lowest costs of ownership possible.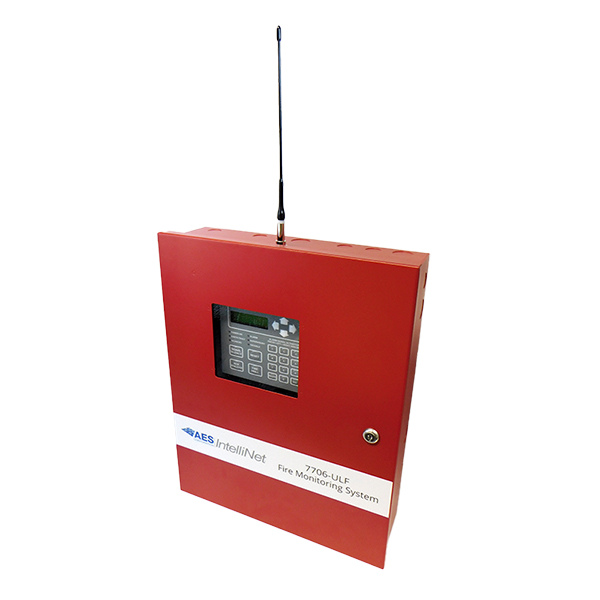 About AES-IntelliNet
AES-IntelliNet® is one of the fastest and most reliable alarm communications available in the alarm and security industry. The first long-range wireless mesh network, AES-IntelliNet's patented technology was designed solely for fire and burglary alarms. As a leader for design and development of wireless alarm communications products, AES-IntelliNet has been protecting people and property for over 40 years.
Compliance & Conformity
AES products have been tested to the highest industry standards
Securing UL listings
Exceeding EU radiation standards
Meeting NFPA code compliance requirements
How AES-IntelliNet Works
AES-IntelliNet, as illustrated in the figure, utilizes the following principles:
There is a remote transceiver used to monitor or control a device such as an alarm panel
Each transceiver relays its data in distances measured in miles, to the central receiver via radio transmission
If the transceiver is too far to reach the central receiver directly, it simply hops the data to the next closest transceiver and that transceiver to the central receiver
The central receiver relays the data to alarm automation software for processing
If data cannot be relayed via one route, the mesh network automatically selects the next best route from a choice of up to 8 available routes at any given time
The network dynamically and automatically adapts to changes in the network caused by weather changes, obstruction changes, the addition or subtraction of other transceivers in the network, etc. so that the network is highly redundant and reliable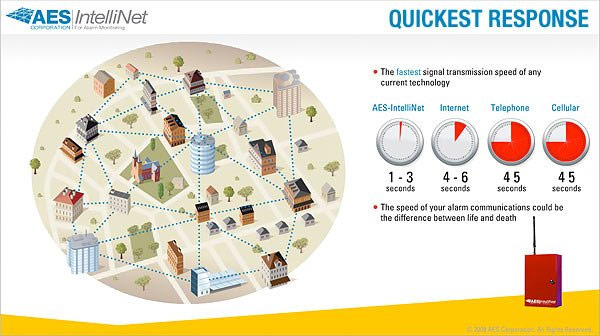 Call FASS to learn how AES-IntelliNet can be installed or for commercial fire alarm monitoring in your Davie, Miami Beach, Sunny Isles Beach, Fort Lauderdale, Hollywood, FL, plus Broward, Palm Beach & Miami Dade Counties