Commercial Fire Alarm Systems in Weston, FL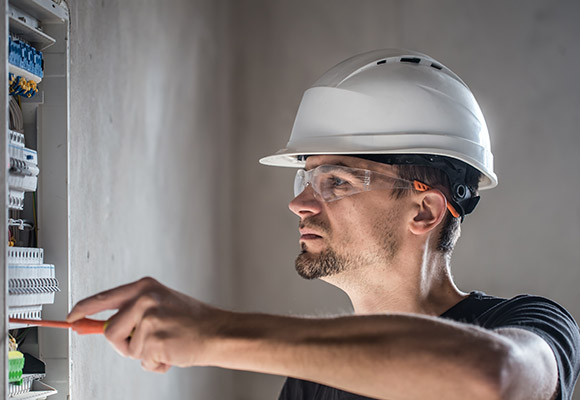 Commercial business proprietors understand the importance of fire protection. Fire alarms must be carefully installed and maintained and remain up to local and national fire safety codes. This requires the expert knowledge the specialists at Fire Alarm Systems & Security have gained in over 30 years serving businesses in southern Florida.
As a local authority in the design and installation of fire alarm systems offering reliable fire safety monitoring in Weston, Fire Alarm Systems & Security has you covered.
Making Commercial Buildings Safe and Compliant by Retrofitting
As technology advances, fire safety regulations in Weston are regularly updated. Failure to comply with safety codes risks lives and can result in fines. A check by a fire alarm company can show where a fire safety system needs improvement.
Retrofits are popular for many reasons:
New technology increases building safety
Old alarms rarely meet modern fire code standards
Insurance companies penalize outdated system owners
Older alarms often malfunction
Repair parts for out-of-date systems can be hard to find
Clients are attracted to companies using cutting-edge technology

Fire Alarm System Design and Installation
Even if commercial buildings look the same on the outside, the interior needs are different for every structure. This means safety systems must be designed to fit specific layouts, with appropriately positioned sprinkler systems, fire extinguishers, and carbon monoxide monitors, so hiring professional designers and installers is essential.
Alarm specialists design every system according to city safety codes. Professional technicians also ensure fire safety installations are of sufficient standard to receive post-installation certification.
Hiring a professional fire safety design and installation team is an investment that offers great returns in safety and peace of mind.
Call Today for the Best Commercial Fire Alarm Systems in Weston, FL
For more than 30 years, Fire Alarm Systems & Security has installed fire alarm systems and performed commercial fire alarm monitoring in Weston's commercial buildings.
Bordering Florida's famous Everglades, Weston became a city in 1996 and now has a population of just under 70,000. Located 31 miles from Miami, Weston regularly makes lists of America's safest and best cities in which to live.
Safety is important to Weston's businesses. That's why they chose Fire Alarm Systems & Security. Customer satisfaction is our top priority. Our competitive prices and free estimates, coupled with the quality of our fire safety systems, are hard to beat.
Learn how we can help make your commercial building safer by calling (800) 413-FIRE (3473) today.