For almost 30 years, Fire Alarm Systems and Security, Inc. have been a major supplier and installer of commercial alarm systems. We are familiar with the structures, codes, and finest systems in all parts of Hallandale Beach, Miami Beach, Fort Lauderdale, Hollywood, FL, Sunny Isles Beach, and Davie and the neighboring areas. We like doing business in this neighborhood and will continue to deliver high-quality, knowledgeable service. 
The Process of installing a commercial alarm system are as follows: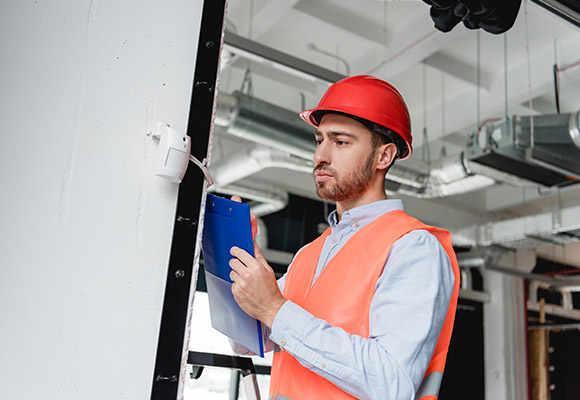 1. Our first step is to set up a meeting between our engineers and your team. We'll need to know the following details about your commercial alarm system: 
-Is it possible to have both a fire alarm and a burglar alarm?

 

-Monitoring of commercial fire alarms?

 

-Are risks specific to the industry and contents?

 

-How much maintenance and testing do you want us to do?

 

-Does your insurance company have any unique requirements?

 
2. Following that, our engineers will begin working on your design. This may be quick for a single-story building, but for a multi-story condo, this might contain stairwells, parking levels, individual units, common rooms, and more. Computer rooms and storage sections in office buildings may have separate triggers.  
3. We will begin acquiring the equipment for your commercial fire alarm systems after you have given your approval. For factories with a lot of dust and filth, places that need a lot of coverage, or other particular needs, some considerations will be made. Honeywell is one of the leading commercial alarm system manufacturers with whom we collaborate. 
4. We'll schedule the installation after the equipment arrives. FASS has all of the essential personnel on hand, including electricians and factory-trained technicians.  
5. Inspections may include local code enforcement departments, fire departments, or other agencies, depending on local towns and the commercial alarm systems your facility had installed.  
6. Finally, we'll put in place monitoring systems. Our monitoring center can keep track of any or all of your building's commercial alarm systems, including CCTV, fire, and burglary. 
Fire Alarm Systems & Security, Inc. takes great satisfaction in having some of the top technicians in the alarm industry. A variety of product lines are installed, maintained, serviced, tested, and certified by us. So, give us a call right now!