Fire Alarms and Commercial Fire Alarm Monitoring in Miami Beach, FL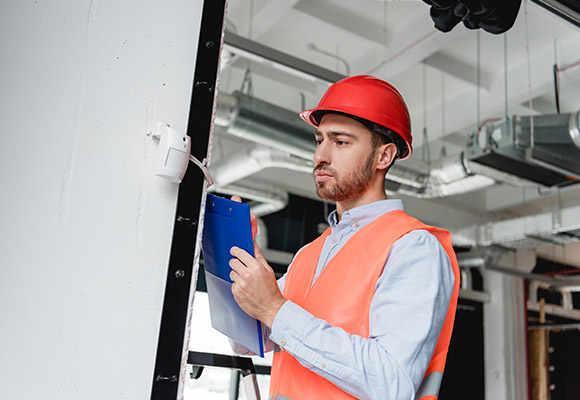 Fire alarm systems are an essential part of your commercial building in Miami Beach. We can tell you that local municipalities do not skimp regarding fire alarm testing and certification. However, neither do we.
We only use the best systems from top manufacturers, including Honeywell, AES/Intellinet, Cooper-Wheelock, and more. Our services are comprehensive from start to finish, including the design and engineering and top commercial fire alarm monitoring services. And all of Fire Alarm Systems and Security's services come with competitive pricing. Great products, engineering, installation, and pricing. You can't afford not to call Fire Alarm Systems and Security for your commercial fire alarms in Miami Beach.
We work with all types of different fire alarm systems in Miami Beach. Some are in new construction, and we work directly with the architect or construction company. Others are looking to upgrade their fire alarms or retrofit them to work with current municipality codes or for other reasons. Codes, insurance regulations, tenant specifications, and more might prompt updating fire alarms and systems in Miami Beach.
Replacement parts are no longer available
Older systems do not meet code
Faulty systems failing or give false alarms
Desire to upgrade to newer technology
Attract new clients
Meet insurance specifications

Commercial Fire Alarm Monitoring in Miami Beach
The final part of your complete commercial fire alarm monitoring in Miami Beach is to ensure the excellent fire alarm systems you have can communicate to the proper agencies. One of the systems we install in Miami Beach is the AES-IntelliNet. The AES-IntelliNet system is a long-range wireless mesh network. This system is excellent for emergencies where cell phone lines cannot find a signal, traditional phone lines go out, or other communication errors found in hurricane-prone areas. If a receiver cannot contact the central receiver, the receiver can map up to eight different routes through other receivers. This is an excellent option for commercial fire alarm monitoring in Miami Beach, and we are ready to come out for your consultation immediately.
Some of the lowest costs of ownership possible
Response time of 1-3 seconds
Suitable for commercial fire alarm monitoring and intrusion alarms
Developed 40 years ago for military use
Great for areas with limited phone or cellular service
Transceivers are self-managing, user-friendly, and highly dependable
Fire Alarm Monitoring in Miami Beach
There are always still emergencies as safe as a community, and Miami Beach is no exception. Miami Beach's high-rise apartments and condos still experience fires even with strict fire safety protocols. Miami Beach Marinas also have their emergencies brought on by boat fires that can swiftly move from one boat to another. Unfortunately, Miami Beach is also highly prone to hurricanes which can down phone lines and cell towers making emergency communication hard.